Web content production and writing in the form of posts, blogs, and intriguing articles are currently popular on social media platforms and websites all over the world. This popularity can be attributed to the fact that web content is presented in the form of posts. Since its inception, content writing has been an excellent medium for establishing and maintaining connections with readers. Even with that being said, the tides are turning swiftly as an increasing number of individuals and businesses become aware of it online. The content writing industry has witnessed an increase in the level of competitiveness as a direct result of these trends. Dubai is at the top of the list when it comes to urban style and is among the most developed cities across the globe. It has also seen a significant rise in the number of writers contributing to a rapid rise in its development and its succession on an overall scale. 
Also Read: Why You Need Paid Services for Company Profile Writing Services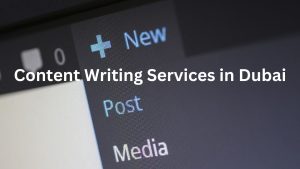 Dubai is home to a lot of businesses that provide content writing services, which means that the city can support content authors in a variety of different ways. One of these companies that are famous for providing professional Content Writing Services in Dubai is known as Companyprofile.ae, and it provides individuals in Dubai who are looking for assistance in making their work stand out with content writing services. However, if you want to know how to improve the content you publish in the upcoming time, or you're just beginning, you really need to have a thorough understanding of the fundamentals of content writing. A basic understanding of the content writing basis will help you in understanding the in-depth familiarity with the ways in which the industry is shifting and new trends that are emerging. This article will help you understand the basics of content writing through key ways that are commonly used by various trusted Content Writing Services in Dubai. The following are a few very fundamental basics in content writing that help in developing the most compelling content and have a substantial impact on the overall content development industry.
Fundamental Basics of Writing Content
Develop an Engaging Title
The title of your work will determine whether or not readers read the rest of what you've written. Nothing you write will be read if the title does not stimulate the reader's curiosity, elicit an emotional response from them, or encourage them to continue reading. You will never have to second-guess whether or not your title will attract readers when you make use of any professional Content Writing Services in Dubai.
Begin with a Creative Dialogue
After you've developed a catchy title, hook your readers with some innovative language. The effectiveness of the rest of your writing is heavily dependent on the opening sentence. That's why it needs to be attention-grabbing and effortlessly transition into your primary argument.
To be able to write convincingly for the business-to-business market, you need to have extensive knowledge of the subject matter you are covering. You should always remember to provide evidence for the claims you make, such as figures, tests, and demographics. This is one of the key strategies used by several Content Writing Services in Dubai, where the teams emphasize developing and collecting the material that can be added to your write-up to enrich the reader's mind and engage the audience with immense knowledge.
Discuss One Thing at A Time
Before you start making content, you should think about the main point you want to make. Remember this as you write, and try to relate everything you say back to this central idea. Discussing multiple different things at once might confuse your reader and break the overall flow of your content.
Develop a Conversational Tone
The content you put out there represents who you are as a person. Therefore it needs to have a distinct tone and style all its own. Writing in a tone that is appropriate for your intended readership, business objectives, and overall identity will help you achieve your goals with greater effectiveness.
The most effective forms of digital material are often limited to bulleted lists, numbered lists, and brief paragraphs in any developing content. Search engine optimization (SEO) of digital material is also recommended, employing both established SEO guidelines and cutting-edge SEO content tactics. Various companies that provide Content Writing Services in Dubai utilize SEO optimization to expand their content network and engage more audiences.
Also Read: How to Write Company Profile Step by Step
After you have finished the first draft of something, you should immediately begin considering ways in which you may improve your writing. Even when penned by professional content writers, writing almost always stands to gain from at least a couple of passes through the editing process.
Overall, these are the fundamentals that every amateur and professional content writer must follow to ensure that their work is of the highest quality. However, if you are looking for the best service for professional article writing, you should contact Companyprofile.ae!